Giorgio Ripamonti and the mountain.
(September 25, 1910 first ascent of Sasso Cavallo 1923m. Above sea level)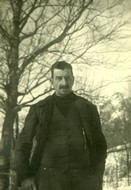 it is right at this point to recall that Giorgio Ripamonti beyond a great mechanic was also a passionate mountain, and was part of the group of persons involved in the social life and mountaineering activities of Mandello who adhered to the foundation of the office of Mandello del CAI Lario in 1924.

But Gino Carugati and Giorgio Ripamonti, September 25, 1910, after their historic first ascent of Sasso Horse (1923 m), in Grignes, they felt just that: completely surprised. And indeed they had every reason, given that they had just passed the most repulsive of the famous group hanged limestone Lecco: that bastion of 400 meters, in the following decades until now, has never gone out of fashion, becoming the theater of business signed among others by Riccardo Cassin (is his way of 1933), Nino Opium (which in 1938, in five days, drew a line absolutely spectacular)

THE FOUNDING MEMBERS AND THE PRIME LOCATIONS
The idea of ​​giving birth to a section devoted to Cai Grignes and headquartered at his feet, came to some protagonists of mountaineering and social Mandello.
The main instigator of the initiative was patt 'Gino other Carugati, pioneer of competitive skiing. He saw in the mound ideal playground to test physical and moral strength, but he also knew the pitfalls and firmly believed that the practice of mountaineering ask local knowledge, technical skills, awareness of its limitations, the most experienced guide: own what they offer sections of Cai.
With Carugati, founders of the Section were Carlo Carcano, comini Domenico, Giuseppe Fasoli, Evangelista Ferrario, Giuseppe Guzzi, duty Mainetti, Galdino Pini, Giorgio Ripamonti, Caesar Sodano, Franco Vercelloni, Vido Giuseppe, Giuseppe Zucchi (Runchet) and others.